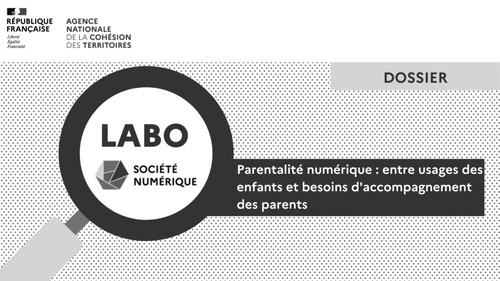 Références :
Children aged 3 to 17 years spend an average of three hours per day in front of screens, a screen time that tends to increase with age, according to theANSES (National Agency for Food, Environmental and Occupational Health Safety).
During the March-May 2020 lockdown, Children aged 6-12 had a daily screen exposure rate of approximately seven hours (including time spent in education).
Faced with the psychological and physical health risks, but also with the exposure of private data, the role of parents is often invoked to regulate the time spent on the Web.
"If screens contribute to the development of children and young adolescents as well as to family blossoming, early exposure and overexposure to inappropriate content can have harmful effects (language delay, concentration difficulties, cognitive delay, etc.).
Many parents would like to see specific tools and signs: 46% of them do not feel that they have enough support in supervising their children's digital activities.
The report of the High Council for Public Health of January 2020 reflects these expectations and reminds us that it is essential to be at their side.
To better support parents, the site jeprotegemonenfant.gouv.fr is evolving to become a unique information portal on digital parenting. The platform centralizes - for parents - the practical tools and resources necessary for a reasonable use of screens among minors.
Références :
Children are being equipped with cell phones at an increasingly early age
In 2021, 95% of the population aged 15 years or older will have a cell phone: 77% will have a smartphone, 21% another type of phone.
CREDOC questioned, within the framework of the Digital Barometer 2021CREDOC questioned young people under 25 about the age they were when they got their first cell phone.
Référence :
60% of those under 25 years of age indicate that they were twelve years old or younger
35% had it before age 12 and 25% in the year they turned 12.
One third had a cell phone in college, between the ages of 13 and 16, and only 4% had one after they turned 16.
CREDOC then asked people aged 25 or over with a child aged 6 or over at what age they had bought or given a cell phone to their child.
Parents surveyed report equipping significantly younger children, with 28% reportedly providing a phone to children 10 years old or younger, while only 15% of 12-24 year olds surveyed had it that early.
This increasing precociousness can be appreciated more easily when we detail the situation of respondents under 25 years of age.
If we divide the population into three age groups, we can see that the proportion of young people equipped before the age of 12 is constantly increasing, rising from 28% for the generation born between 1996 and 1999 to 44% for the 2004-2008 generation
Another specificity is that among the under-25s, girls have equipped themselves earlier than boys: 41% of them had a cell phone before the age of 12, against only 30% of boys.
Parents say they are increasingly vigilant about their children's screen time
According to the 2021 edition of the Digital Barometer, parents are becoming more and more aware of the time their children spend on screens.
Référence :
48% restrict phone calls or texting, and nearly six out of ten parents restrict time spent watching TV, playing video games or on the Internet.
Each of these measures for supervising and limiting children's screen time is a significant improvement over the measures established in 2012 or even 2014.
For example, in 2020, 59% of parents supervise the time spent on video games, up 10 points from 2014 and 12 points from 2012. The increase in supervision of phone use is even more significant: 48% of parents say they are vigilant in this regard, +17 points compared to 2014 and +16 points compared to 2012.
"The socio-demographic analysis shows few significant differences," comments CREDOC."Barely do we note a greater vigilance regarding the time spent in front of the screens of the inhabitants of the Parisian agglomeration, but also - with regard to the time spent in front of the television - of the executives, while the employees more often seek to set up rules framing the use of the telephone and the sending of SMS by their children." Younger parents seem to be the most coercive, but it is likely that the children in their care are younger and therefore more likely to need rules and safeguards."
A significant need for support for families
A survey conducted by Ipsos on behalf of the OPEN association, in partnership with UNAF (Union Nationale des Associations Familiales) sheds light on the digital behaviors and practices of families after the health crisis. The study is based on the testimonies of 2012 parents (with children aged 0 to 17 years) and 600 children aged 7 to 17 years interviewed between July 9 and 22, 2021.
According to the study, the various confinements have left their mark, particularly with regard to the consumption of screens, which has increased by 44% for parents and 53% for children.
According to the parents surveyed, the smartphone is the tool most used by their children, especially for the following age groups: 11-14 year olds (70%) , 15-17 year olds (87%). According to these estimates, smartphone use increases by 11 points, from 37% to 48% between 2019 and 2021. Among other tools used by children: 88% of parents surveyed say they connect to the Internet several times a day. The majority of parents recognize that this consumption is excessive for themselves (77%) but also for their children (74%) and for their teenagers (87%).
the tablet is up 23 points (from 17% to 40% between 2019 and 2021),
television increases by 8 points (64% vs. 72%),
the computer gains 6 points (32% vs. 38%),
the console loses 6 points (38% vs 32%).
The perceptions of parents (59%) and children (56%) are very close in recognizing that children's screen use has increased over the past 18 months.
YouTube, children's favorite network
Some of the social networks most used by children include:
YouTube/YouTube Kids (40%)
Snapchat (25%)
TikTok (23%)
Parents have difficulty estimating the amount of time their children spend in front of screens
Concerning the uses, the survey notes a gap between the perceptions of the parents and those of the children at different levels.
The gap in perception of the time spent in front of screens is glaring between parents and children, especially during the week. Thus, the study highlights that 7-10 year olds spend almost three times more time on the smartphone than their parents imagine, and the same is true for the computer or game console, for this same age group.
However, this gap tends to diminish on weekends and during vacations. This tends to prove that when parents are present or not busy, they are lucid about the reality of their children's digital practices.
Parents lost in the reality of their children's activities
Similarly, there are significant differences when it comes to the activities their children do on the Internet. This is particularly true for the 7-10 year old age group, where parents report that 49% of them watch short videos, while 66% of these children report doing so. This gap is also notable for activities such as watching movies (37% vs. 74% for 7-10 year olds) or watching TV series (43% vs. 73% for 11-14 year olds).
As for social networks, the same observation applies: parents find it difficult to estimate the number of social networks consulted by their children. According to parents, children aged 7-10 and 11-14 use an average of 1.9 and 3.2 social networks respectively. Children declare using 2.5 and 3.6 social networks respectively.
Different perceptions of risk
As for the risks of the Internet, here again the perceptions of parents and children diverge. On the one hand, parents mention social risks related to their children's digital practices, in particular: While children rather mention health problems such as :
dependency (51% on average),
cyberstalking (49%),
contact with strangers (43%).
headaches (43% on average),
difficulty falling asleep (42%),
passivity (39%).
The different ways to regulate digital practices
Parental guidance is often symbolized by the establishment of rules and limits, to the detriment of dialogue.
The parents surveyed say they have rules in place to control their children's screen use. This includes: 39% of respondents prefer to discuss good digital practices with their children. However, only 25% adapt their behavior to set an example.
banning the use of screens at the table (53%),
limit screen time per day/week (52%),
prohibit the use of screens before bedtime (43%).
Some parents will opt for the implementation of a monitoring solution with or without consultation of their children. The study notes that 41% of parents have already used spyware, 30% of them in consultation with their child, a process that has increased by 70% in 2 years.
Parents in need of support
According to the study, 1 parent out of 2, i.e. 46% of respondents, do not feel accompanied or not accompanied enough. To get help in digital education, parents will turn first to family and friends, while digital actors are relegated to 7th place on the scale of trust.
Parents' expectations for potential coaching include:
educational resources such as practical tips or non-digital tools for dialogue,
local actions and events such as awareness days for children or training workshops for parents,
technical tools or solutions.

Référence :